Been thinking about writing for next year and found myself playing a bit a few ideas. I started with the Growth-Share Matrix from the Boston Consulting Group. For those that don't know, this is what it looks like: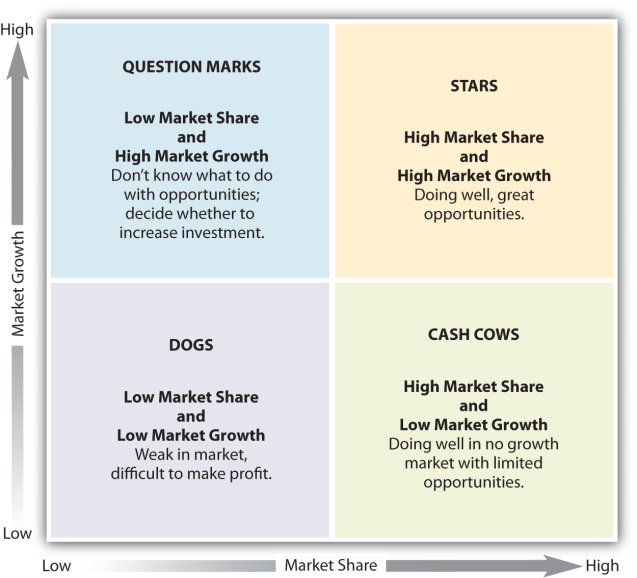 Basically, the idea is that you split your business units / brands / what have you along those lines. It's useful if, for example; you had multiple series (like I do) where you needed to divert resources to (your writing time) and decide what to do.
In my case, my Star would be A Thousand Li, the System Apocalypse is the Cash Cow, the Question Mark was Adventures on Brad and Hidden Wishes would be my dog.
Of course, that doesn't line up directly; but it does kind of give you an idea of where my resources might be worth devoting to. But…
A Series Profitability / Effort Matrix
I think there's another variation on this that could be just as, if not more useful.
In this case, I'd alter the axis to:
Y-Axis – Series Profit
X-Axis: Effort / Time Taken to Release each book
So, it'd be something like this:
In this sense, my Series would change a little. For example:
AoB is easy to write and at around 40k words each book, they are quick to get out. While they haven't gotten a lot of support in recent releases, I still do pull in a decent profit overall because they're now at 6 books out. Whereas Hidden Wishes at only 60k words is a pain to write. Seriously, it takes me as long to write a Hidden Wishes book as a A Thousand Li or System Apocalypse.
Anyway, this was a little thought process and play. I have no idea if it's useful for anyone else, and it's worth exactly nothing for people with fewer than 2 series, but… here you go.
Some Things to Note
There's something to be said about defining profit and what timeline you are using to define it in. As a self-pub author, you have the entirety of your career for a book to make a profit. Actually, up to 50 years after you die, but you get the point. When we decide to cut-off that timeline is a good question
This matrix is only useful if you are like me and can 'decide' to some extent what to write. I know some writers who can only write what their muse tells them.

I know others who have to finish the story they start (which, really, I recommend most people do). Again, this is another dicussion; but if you don't / can't choose what to write, making calculations of what series to write is kind of useless
Be careful of how you define effort / time. For me, I am using both the amount of time it took (days/weeks/months) and how emotionally drained it made me.
Lastly, you aren't comparing like-to-like. A Thousand Li is less profitable than System Apocalypse, but it only has 2 books out. AoB has 6 books out, while ATL has 2. Again – they have different values. This is a 2 axis matrix, meant to help guide thinking; not dictate it.
Anyway, have fun if it's useful.
---
Like the business blog post? Want to support me writing more of them? Want to read ahead (2 weeks) of others? Become a Patron and choose the $2-tier to be able to read the business posts only and ask questions about the business side of writing.